Children's Ministry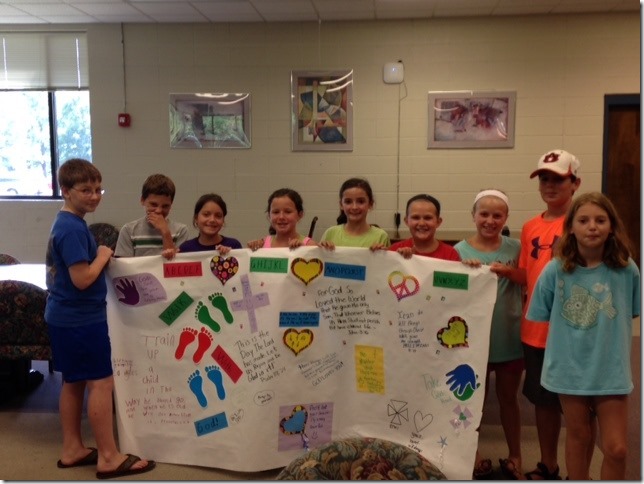 Central Presbyterian Children's Ministries
Kid's Central
Our Mission: To foster in children: a love for Christ our Savior; a desire to read the Word of God, pray, and attend church; a desire to fellowship with other Christians; a heart for our community and for serving God by serving others. We desire that our children know God made us for His own glory, that we were created to honor and glorify Him in all they do, that God exist in three Persons, and that we can glorify Him by loving Him and doing what He commands.
Proverbs 22:6 Train up a child in the way he should go, even when he is old he will not depart from it.
John 3:16 For God so loved the world that He gave His only begotten Son, that whoever believes in Him should not perish, but have eternal life.
Matthew 25:40 And the King will answer and say to them. "Truly I say to you, to the extent that you did it to one of these brothers of Mine, even the least of them, you did it to Me."
Kid's Central Activities:
Kid's Club Bible Study: Meets every Wednesday throughout the school year from 2:30-4:15p.m. We eat a snack, play some awesome high energy games and then slow it down for some bible time. We are studying the New Testament this year.
Girls Bible Study: K-5th Grade girls meet once a month after school till 4:15PM to have a snack, do girlie things, and study the word of God. It gives the girls a chance to just be girls!
Sunday school : Our Sunday School meets each Sunday from 9:15-10:15 a.m. We have classes starting at 3 years old up to 5th grade. Nursery is available for younger ages. We use Great Commissions curriculum.
Parent's Night Out: This activity meets one Friday night each month from 6:00-9:00 p.m. to give our parents a night out. We provide staff and activities for infants- 5th graders including dinner, games and a movie.
Service Camp: This is a 3-day camp for children K-5th grade in which they spend the week serving God by serving their community.
Vacation Bible School: A fun-filled week of studying God's Word, making crafts, participating in recreation, music, missions and more. On Friday we have a Friday Fun Day complete with carnival games, cookout, face-painting, and much more.
Family Easter Celebration: This celebration takes each family through the stations re-creating the last week of Jesus' life on earth. This is a wonderful journey for each family to participate in to realize the suffering of Jesus Christ and to give thanks to God for sending his son as our Savior.
Reformation Celebration: This is a fun-filled hour of games, food and crafts to celebrate the historical beginnings our Reformed faith.
Christmas Parade: Each year our children decorate a float and ride in the annual WAAY 31 Christmas Parade.
Christmas Play: Each year, the children put on a play during the Advent season that re-tells the birth of our Savior, Jesus Christ. Children 3 years-5th grade participate.
We have other activities including father/son, mother/daughter, father/daughter, swim parties, movie field trip and much much more.
Come join us at Kid's Central. We are fired up about sharing the Word and showing how to live it out in our lives.
Click here to view some pictures of our different activities